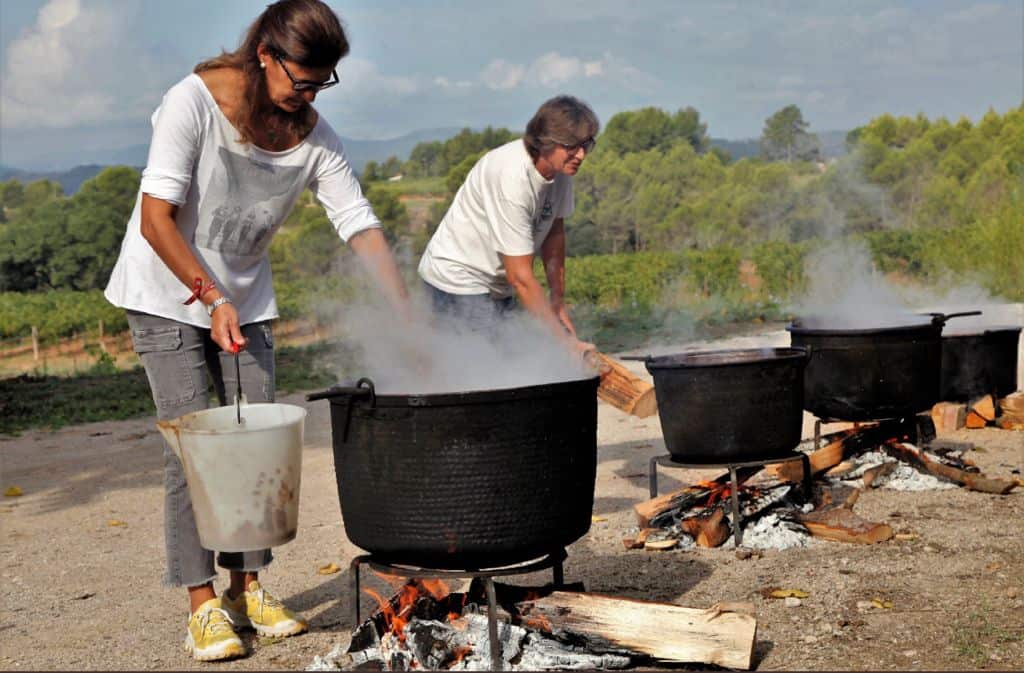 Vi Bullit
"My first memory of the world of wine is the "vi bullit" of Can Prats". Maite Esteve
On Saturday 11th September we celebrated our own "vi bullit" festival.
A tradition that a couple of years ago we decided to recover and follow it as our ancestors did.
This year, on Friday 10 September we harvested biodynamic xarel·lo from Clot del Roure vineyard. The following day, Saturday morning, very early, we boiled the grape must to concentrate its sugars and make a sweet wine, which will age for 7 years in barrels.
But, do you know what exactly is "vi bullit"?
"Vi bullit", or "vimblanc", is a very old, almost lost form of making sweet wine – now in the process of being recovered – that was made in farmhouses.
Thus, recovering past family traditions, the 4 families of Vins El Cep, decided to recover the tradition of "vi bullit", which had been maintained for generations with centenary cauldrons of our farmhouses. 4 cauldrons, 1 per family and farmhouse.
"Vi bullit" is made by heating the grape must to lose some of the water, thus achieving a greater concentration of the sugars that are naturally found in the grape pulp. At this key moment, the amount of sugar that will be present in the wine is decided, controlling the boiling time to regulate the evaporation of water.
Once the must has been reduced to almost half its volume, it is left to cool and fresh must is added until the cask is full, where, using the ancestral method of ageing on solera, fermentation begins, which will stop naturally and leave the wine sweet, beginning the ageing process.
The wine will age in barrels for 7 years.
We will continue to make boiled wine in our farmhouses and keep this tradition alive!